Creating and Driving More Value to the Clients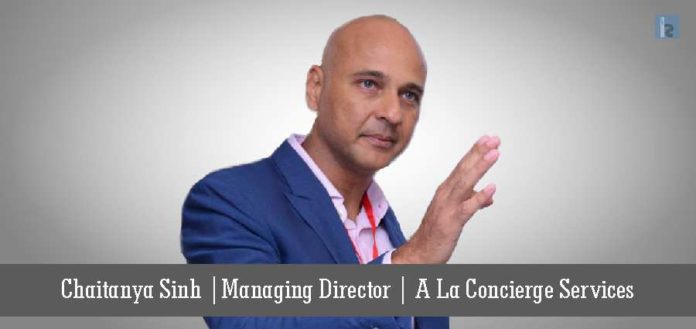 A La Concierge – Why we do and what we do?
How does a small fish survive in a big ocean?
By being vigilant, by learning from mistakes, by evolving, by being adaptable and by swimming in those waters that are more suitable for a small fry to thrive in, than for big fish to survive.
Jack Ma of Alibaba Group consciously took on and defeated, then global leader, eBay in China by building solutions that were more in tune with Chinese sensibilities. Alibaba was also aggressive in the fight for dominance in the early stages, spurred on by their home ground advantage. Ma famously said "eBay may be a shark in the ocean, but I am a crocodile in the Yangtze River. If we fight in the ocean, we lose—but if we fight in the river, we win." Ma was right and Alibaba is today the largest e-commerce platform in the world (eBay in China practically ceases to exist).
The status quo is consistently being challenged, and the last half-decade has thrown up numerous challenges (and opportunities) in the FM (and allied) industry and all the players have had to adjust their internal and external goals and visions. This cyclical ebb and flow is a part of any organizational lifecycle – however, the disruptions (or the mere threat of disruptions) are coming in so thick and fast that companies are being forced to have 360-degree vision just to not be blindsided. This "lookout" phenomenon is making even the traditional brick and mortar companies invest in technological innovations, and therefore, if I may paraphrase, "the game is afoot"
We at A La Concierge (ALC) have over the last decade, faced sufficient pressure (as have all value – added service providers in the FM space), to stay relevant. In difficult economic times, client companies tighten their non-core spends, renegotiate their existing contracts and try and find cheaper alternatives. ALC has reacted to these demands by upgrading the technology, offering different business models, adding new services, collaborating with partners (and sometimes even competitors), and concentrating more on the "Why we do what we do" rather than only focusing on the "how and what we do". This "why we do what we do" is the constant reminder and motivator to keep pushing ourselves harder to create and drive more value to our clients – every day
A La Concierge has in the last couple of years differentiated its services in the following ways:
The Online Portal www.alaconcierge.com now provides detailed information and costs for all the major services provided
The Mobile Application makes it easy for clients to place requests 365 days of the year from anywhere in the world
Different Business Models ranging from "Premium" to "Beat" to "B2C" have been added to cater to varying price points depending on client requirements
Courier and Delivery Services have been added for clients to seamlessly request for local/ domestic/international couriers
An Amenity Booking Application has been developed especially for high-end Residential complexes
A Housekeeping and Engineering Tracking Application has been integrated, through a collaboration, into the ALC portal to allow clients to escalate, monitor and audit housekeeping and maintenance services (in real time)
New Service Offerings are continuously being added to keep up with client expectations
A La Concierge services over 75 large corporations in Pan India with a combined employee base of over 250,000 end-users. These end-users rely on us to fulfill their daily tasks efficiently and seamlessly. Our services range from:
Relocation
Handyman
Cleaning
Passport + Visa
Vehicle Transfer + Driving License
Deliveries + Errands,
Banking + Payments
We have specialized teams dealing with different departments so that we are able to provide a high level of advice and service.
When I look back, I feel as though we have come so far from our early beginnings, and we have also had our fair share of setbacks along the way – but I am grateful for the life experiences and prepared for the challenges ahead (which are numerous):
We need to evolve from an almost 100% B2B business to a more balanced B2B / B2C business
– this is a monumental task requiring completely different skill sets and a re-wiring of our corporate DNA
We have to collaborate with potential competitors
– this is required to stay competitive and provide the best in class service across multiple touch points
We have to keep our employees and clients equally happy
– this is required to build a sustainable organization
We have to innovate – services products/technology/quality
– to not do so would be to die a slow and painful death!
Where do we go from here? If I were to extend the analogy at the start of this article I would query "Does that small fish become a big fish? Do the safe waters recede or even disappear? Does the small fish get eaten by a big one? The answers are not so clear at this point. The world today is full of uncertainty. Our lives are more inter-connected and at the same time more isolated; Our choices and preferences are relentlessly captured and sold as valuable data; The bottom line has taken precedence over all social or human costs and we are all at that inflection point where we really need to question the "Why we do what we do"!
As a company, A La Concierge is committed to servicing our clients and adding value to their lives (at every juncture) – whilst at the same time providing a means for our employees to fulfill their own desires, passions, and potential. Doing the former must be sustainable for the latter – that is the crux – that is the "why"!
The most difficult thing to do is to be simple, and yet leave a positive impact on society – but that is a task worthy of my lifetime.
About the Author:
CHAITANYA SINH
Chaitanya Sinh completed his schooling at the Cathedral & John Connon School in Mumbai and then went on to pursue a business degree at the Wharton School, USA.
Thereafter, Chaitanya worked as an Equity trader (primarily GDR arbitrage) for a few years before venturing out on his own.
In 2004 Chaitanya Sinh started A La Concierge Services Pvt. Ltd (ALC) – a comprehensive support services company that provides 100+ services to large corporations as well as individuals. Currently, ALC is ranked as one of the top corporate concierge companies in India.
In 2017, co–founded Bombax Couriers LLP, which is India's only courier company offering same – day intercity deliveries. Bombax Couriers offers a variety of courier solutions such as; overnight time-definite delivery, hand carries courier solutions, customize courier solution, along with the standard courier delivery service.
An avid sports enthusiast, Chaitanya played Rugby for India from 1998 – 2005 and was the captain of the Indian rugby team from 1999 – 2004.
Apart from starting up ventures and playing sports, 'Chait' also loves the outdoors and is passionate about preserving the environment. Chaitanya would eventually like to get involved in social entrepreneurial initiatives that positively contribute to society.
"You never fail – you only learn and evolve!"- is Chaitanya's mantra for success!